What Foamstream can be used for 
Foamstream can tackle all sorts of weeding tasks in a safe, eco-friendly manner. Read on to find out if Foamstream could be right for your organisation.
Weed control
Foamstream provides the most effective way of killing vegetation. Fewer treatment cycles are needed per year compared to any other alternative thermal method of weed control. This means less labour is required over the course of the year, reducing overhead costs. 
In addition to killing the plant, Foamstream also sterilises surrounding seeds and spores that haven't yet germinated, reducing regrowth. Safe to use in public areas, on utility sites, or in any space which requires an eco-friendly method of treatment, it poses no threat to people, animals or the environment.
Moss and algae control
Unlike most plants, moss roots sit on the top of the plant. Foamstream is applied directly to the plant, killing the moss and inhibiting its regrowth. Using Foamstream on moss and algae is as effective as herbicide alternatives and will eradicate the plant with just one treatment per year. This makes Foamstream a fantastic method for environments such as water utility sites, reducing slip and trip hazards and making pathways safer for staff and visitors.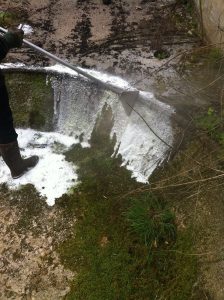 An all-weather solution
Foamstream can be used on all surfaces, in all weather, all year round. It is suitable for use on soft and porous surfaces such as historical monuments, and hard surfaces such as street furniture, signage, bins and benches. It can also be used on artificial surfaces such as sports tracks and astro turf.
People friendly
A lot of weed control takes place in public areas such as parks and gardens. Naturally, organisations will want to ensure they keep the public safe while they are working. As Foamstream is herbicide-free it is safe to use around people and so can even be used in busy areas such as high streets and school grounds.
Animal friendly
As mentioned above, due to Foamstream's herbicide-free nature it can also be used safely around animals. That means our green solution can be used everywhere from dog parks to zoos and farming land.