A growing number of towns and cities in the UK have taken action into their own hands when it comes to prioritising the health of their citizens and putting a stop to the decline of biodiversity by halting the use of glyphosate and or pesticides in their area. These towns have instead embraced more organic and safe, yet still highly effective options, when it comes to weed control and weed removal.
Foamstream, the organic foam based weed removal tool from Weedingtech is one such way that some county councils are choosing to control their problematic weeds, but other options currently out there include electric weed control (weed zapping) and of course manual weed removal, which whilst being super-effective is obviously very time consuming and labour intensive.
Pesticides, which include insecticides, herbicides and others, are commonly used by groups like local councils, hospitals, housing developments, schools and others to control weeds on public and private land. It's a sad fact that unfortunately on a daily basis in the UK it's nearly impossible to avoid exposure to pesticides in some shape or form – so we're hopeful that other groups will adopt the use of organic alternatives such as Weedingtech's Foamstream.
Map of Pesticide Free Towns (2023)
We've curated a list of pesticide free towns in the UK based largely on the data researched by the excellent Pesticide Action Network, a not-for-profit organisation that aims to raise awareness of and tackle problems related to the use of pesticides in the UK.
List of towns and cities that are pesticide free – or are in the process of phasing out their usage of pesticides:
Balerno, Edinburgh
Bath and North East Somerset
Bilbrook, South Staffordshire
Brighton and Hove, East Sussex
Cambridge, Cambridgeshire
Chelmsford, Essex
Chichester, West Sussex
Chipping Norton, Oxfordshire
Colchester, Essex
Cowes, Isle of Wight
Derry, Londonderry
East Devon, Devon
Erewash, Derbyshire
Faversham, Kent
Folkestone & Hythe, Kent
Frensham, Surrey
Frome, Somerset
Glastonbury, Somerset
Greater London Authority
Guildford, Surrey
Hackney, London
Hadleigh, Suffolk
Hammersmith & Fulham, London
Hexham, Northumberland
Highland, Scotland
Lambeth, London
Lewes District, East Sussex
Lyme Regis, Dorset
Manningtree, Tendring, Essex
Marlow, Buckinghamshire
Midlothian, Scotland
Newcastle, Tyne and Wear
Peterlee, Durham
Petersfield, Hampshire
Portsmouth, Hampshire
Reading, Berkshire
Renfrewshire, Scotland
Shaftesbury, Dorest
Shetland, Scotland
Sunderland, Tyne and Wear
Trafford, Manchester
Wadebridge, North Cornwall
Warminster, Wiltshire
Waverley, Surrey
Wirral, Liverpool
Worthing, West Sussex
Do you know of any other locations that are pesticide free – or are working towards this, who should be listed here?
Feel free to reach out to us for inclusion, or to complete the form below:
Help us to make your local council greener!
Do you wish your local council, school or other local group was also pesticide-free?
We've tried to make it as easy as possible to help the cause. Here are some of our suggested next steps if you wanted to encourage your council or other group to go pesticide-free:
1 – Make a copy of this pre-written letter template on Google Docs: Request your council to switch to organic weed control.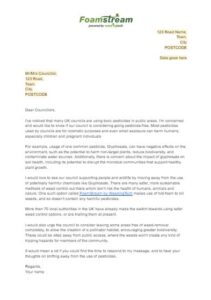 2 – Find out the contact address of your local council, school, or other such group. You can look for your local council online here: https://www.gov.uk/find-local-council.
3 – Either edit and then print out the pre-written letter template from above before sending it to the address of your local councillor, OR you can just copy and paste the message below and send it via email or through your council's website:
Dear Councillors,

I've noticed that many UK councils are using toxic pesticides in public areas. I'm concerned and would like to know if our council is considering going pesticide-free. Most pesticides used by councils are for cosmetic purposes and even small exposure can harm humans, especially children and pregnant individuals

For example, usage of one common pesticide, Glyphosate, can have negative effects on the environment, such as the potential to harm non-target plants, reduce biodiversity, and contaminate water sources. Additionally, there is concern about the impact of glyphosate on soil health, including its potential to disrupt the microbial communities that support healthy plant growth.

I would love to see our council supporting people and wildlife by moving away from the use of potentially harmful chemicals like Glyphosate. There are many safer, more sustainable methods of weed control out there which don't risk the health of humans, animals and nature. One such option called FoamStream by WeedingTech makes use of hot-foam to kill weeds, and so doesn't contain any harmful pesticides.

More than 70 local authorities in the UK have already made the switch towards using safer weed control options, or are trialling them at present.

I would also urge the council to consider leaving some areas free of weed-removal completely, to allow the creation of a pollinator habitat, encouraging greater biodiversity. These could be sited away from public access, where the weeds won't create any kind of tripping hazards for members of the community.

It would mean a lot if you could find the time to respond to my message, and to hear your thoughts on shifting away from the use of pesticides.
You can usually find the contact details on your local council website – recently we created this handy guide to finding their contact details online.
4 – Tell us who you've contacted, and keep us informed as to whether you've heard a response from them. In some cases we may be able to reach out to the council to follow up on your behalf.
5 – This is completely optional, but whilst you're here, why not also sign up to the Pesticide Action Network (UK) – this is a group of campaigners that are working towards stopping pesticides being used in the UK. 
Reporting Weeds to your local council
Don't forget that if you simply want to report weeds to your local council you can find all their contact details on this post.
But please remember, reporting weeds to the council wont mean they are going to use an organic, environmentally friendly weed removal method like Foamstream when it comes to dealing with them!🌱
Why not find out if your local council still uses pesticides to control their weeds?
You might not know if your local council is using potentially harmful pesticides to control their weeds – they don't usually make that information publicly available without being prompted. However, we do definitely suggest you reach out to them to ask them if they do or don't. Many councils currently do make use of pesticides like Glyphosate to manage their weeds, and if asked they will likely confirm if that's the case or not with you.
You can find the contact details of your local council by entering your postcode at the Gov.uk website.
Help share our Pesticide Free Towns in the UK map! 💪
We would love it if you could share our pesticide free towns map with anyone that you feel may be interested. You can find our social media handles below if you fancy tagging us when sharing on social media.