Switching to the non-herbicidal Foamstream system for total weed control hasn't only brought benefit for the team at Tim Brooks Garden Services in terms of time and efficiency, the fact it is glyphosate-free has been very well received by their customers too! Owner Tim Brooks purchased an L12 from Weedingtech two years ago and comments that the machine has already paid itself back multiple times over – both in terms of the additional work it has generated and the convenience and fewer treatment cycles that Foamstream demands per year.
Tim and his team of three undertake all gardening and landscaping tasks, mainly in domestic settings, which was the reason for the switch to a weed control solution that would be kinder to both people and the environment. "Customers are far more conscious of the negative impact of chemicals now on health and their surroundings, so we decided to trial various different alternatives to Glyphosate. We tried burning and hot water treatments, but found Foamstream to be by far the most effective" Tim explains.
Foamstream is an organically approved process, utilising a plant-based foam comprised of naturally-occurring oils and sugars which acts as an insultation blanket to the active ingredient - hot water - maintaining 'kill zone' temperatures of 57oc+ to penetrate and kill a full range of broadleaf weed species. In independent trials, the efficiency of Foamstream was found to be comparable to that of Glyphosate, out-performing other non-chemical methods.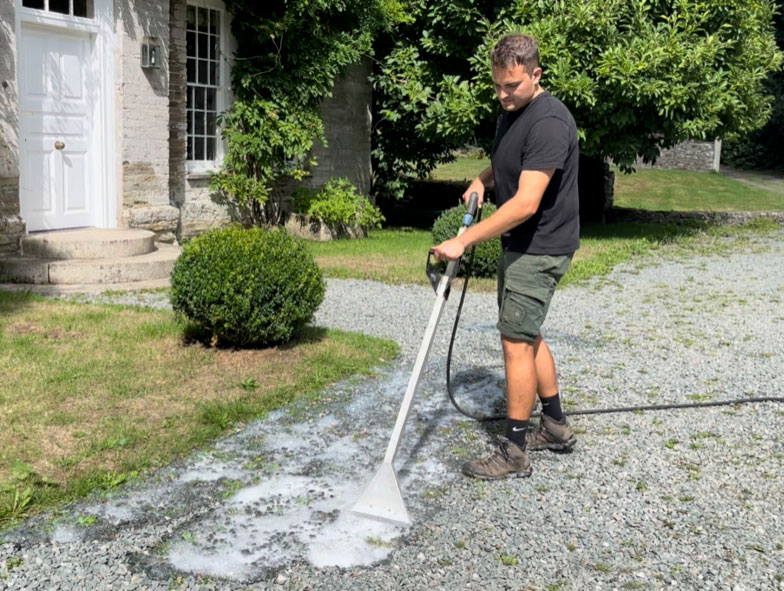 "One of the big benefits we have found is that we can use the same method for multiple purposes – treating weeds, moss and algae but also for surface cleaning and pressure washing which is fantastic. Not only that, but because Foamstream sterilises the spores and seeds before weeds appear, we have found that we are only having to treat surfaces once or twice a year which is significantly less than the multiple applications of Glyphosate that were previously required."
Safe to use around children, animals and environmentally sensitive areas such as watercourses, Foamstream has also opened up new opportunities for Tim when it comes to working on commercial jobs in conjunction with local authorities. "We've demonstrated our Foamstream service to a number of town councils who are all looking for more sustainable, chemical-free alternatives. Their positive response mirrors that of everyone we speak to, and we can only see that Foamstream and its benefits will continue to open more doors for us in the future."