What started as a new non-herbicidal weed-control solution for the school at which he is Principal, has become a venture all of its own for Pat Galvin after discovering the effectiveness of Foamstream! A demonstration of the Foamstream system sealed the deal for Pat two years ago, and since then, he has established WeedItGreenIreland Ltd – carrying out non-chemical treatments of both weeds and moss for domestic and commercial customers across Leinster, Ireland.
Local distributors Furlong Equipment introduced Pat to Foamstream in his capacity as Principal of St Patrick BNS Portalington and after one trial, it went to the top of the class! "Here in Ireland, we have the 'Green Schools' initiative which promotes long-term, sustainable solutions to issues within the school and wider environment" explains Pat. "We had been looking for an alternative to chemicals, in particular Glyphosate, to treat weeds on our footpaths and flowerbeds. The demonstration of the Foamstream treatment killed the weeds instantly – we were so impressed, we purchased the L12 power unit straight away."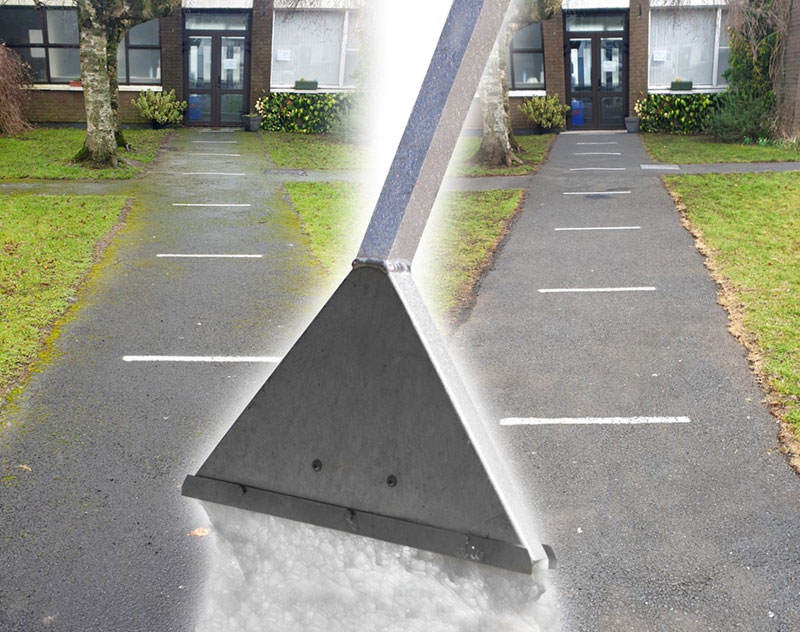 Foamstream from Weedingtech is the world's leading chemical-free weed treatment. Using the precise application of hot water insulated by a specially formulated organic foam, weeds – together with seeds and spores – are targeted, resulting in the death of the plant and reduced re-growth which in turn reduces the number of treatment cycles required per year. Research by the Agricultural University of Athens, and recently published in NewScientist magazine, found that
the efficacy of hot foam was comparable to that of glyphosate and outperformed other non-chemical alternatives.
"Soon after we purchased the L12 unit, word started to spread and we began getting enquiries for work from lots of other schools in the area so I set up WeedItGreenIreland with my son Daragh. We now have a mixture of clients on our books from schools to businesses, to residential properties who all want to tackle weeds in a way that is effective and safer for people and the environment. It's effective on the whole spectrum of weeds, including Marestail which is notoriously difficult to treat."
Pat continues, "Another great thing about this set-up is the versatility. The L12 system can also be used for other tasks such as high-pressure cleaning and lower pressure rinsing of furniture and play facilities." The foam treatment itself is also versatile, able to treat both weeds and moss, and effective in all weather conditions. "We're currently using Foamstream to combat moss on a stud farm and we can do this in all weathers and completely eliminate the moss in one treatment, without the use of any toxic chemicals that could harm the animals."
"There are so many benefits to Foamstream and it is testament to the fantastic job it does that we're as busy as we are!"