Flete Estate, home to Mothecombe Gardens, have eliminated herbicide use and created a more environmentally friendly space for both people and pollinators, by switching to Foamstream from Weedingtech. Sustainability has always been a focus for the family-run estate situated in a picturesque part of South Devon and now, under the management of John Mildmay-White, the site is another step closer to being completely organic and chemical-free.
John took over the running of the estate from his father in 2019, which includes Mothecombe House, the public Mothecombe Gardens and a number of holiday cottages, boasting views of the beach and Erme estuary. "My father converted the home farm to organic in 1990 and my mother has been creating a haven for pollinators in the garden which is the legacy I am looking to build on" he explains. "One of the issues I was keen to tackle was the use of herbicides on areas like our gravel paths and around our holiday lets so I tasked our Head Gardener Martin Haxton with finding a viable alternative."
Martin explains how, after trialling various alternatives, the team settled on Foamstream. "There are various tools and techniques that all claim to provide an effective non-herbicidal solution. We did some research and tried various options such as burning, which we found was very labour intensive, expensive and at the end of the day, not overly effective." He adds, "There were lots of positives about Foamstream, firstly that it's all organic and another is the ability to use it in all weather conditions which means you're not reliant on the perfect weather conditions to conduct the operation."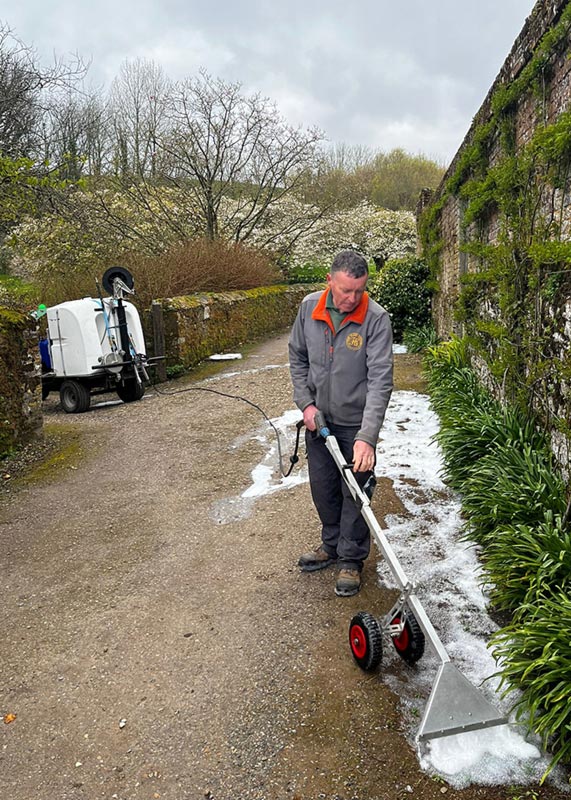 Foamstream is a green solution to weed and moss control, utilising a combination of hot water and a patented foam made from natural plant oils and sugars to retain heat and effectively kill a wide variety of weed species. In trials, Foamstream has demonstrated similar efficacy to glyphosate, outperforming other non-herbicidal alternatives. "It was clear during our research that Foamstream had been thoroughly tried and tested, in a range of situations and would give us the results we wanted" says John.
"We purchased an L12 in August 2022 and it's been a brilliant investment. The set-up is quick and simple and operators have commented on how easy it is to move around the gardens meaning we can tackle weed growth in all areas thanks to the 20m hose and highly portable lance applicator." John concludes, "We're delighted with how well Foamstream works and how this will help in our drive to provide a cleaner environment for everybody, including wildlife, to enjoy."