A hugely busy summer season for the team at Weedingtech will culminate in them returning to SALTEX this November, showcasing their world-leading commercial herbicide-free weed control solution - Foamstream. Proven in trials to deliver comparable efficacy to traditional chemical controls, Foamstream has been adopted by facilities across the sports and grounds sector, with all the details available to visitors on stand E057.
Delivered by a range of patented machinery, Foamstream combines hot water and a biodegradable foam, made from natural plant oils and sugars, to offer an organically certified and herbicide-free alternative to weed and moss control. The hot water is 'insulated' by the foam, ensuring that the heat penetrates the waxy outer layer of the leaf, travels down the stem and into the roots, killing or severely damaging the plant. In addition to eradicating the plant, Foamstream also sterilises surrounding seeds and spores, helping to reduce future weed growth – reducing treatment cycles and overhead costs.
The all-natural ingredients also mean it is safe for applications around people, animals and sensitive environments making it a viable solution for, schools, local authorities parks and housing associations. 2023 has also seen a surge in sales at top-flight sports turf facilities, including a number of Premier League football clubs, most recently Chelsea FC, using Foamstream to control vegetation on pathways, car parks and other hard surfaces.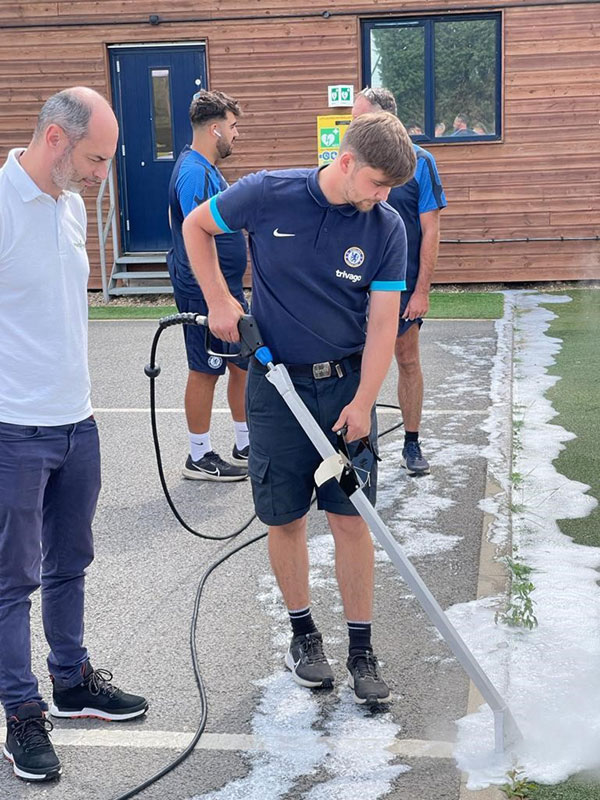 The exponential rise in demand for Foamstream systems has seen the growth of Weedingtech's rental offering, with customers citing the benefits in accessibility and eliminating the sometimes lengthy and complex capital procurement process. Foamstream's rental package includes the latest high-specification machinery and full technical training for a set weekly rate. In addition, an information of things (IOT) tracker is included as standard, to provide accurate measurement of output and ongoing remote support. Discounts are available for long-term hire of more than six months, with an additional option to purchase the equipment if desired, where 80% of the rental value is returned.
More information on the system, and options available for rent or purchase can be found by speaking with the technical team on hand on stand E057 across the two days.