As part of their wider Climate Change Agenda, the team at East Devon District Council (EDDC) have switched to non-herbicidal weed control with Foamstream from Weedingtech. In an attempt to improve the environment and move towards net zero, the council have eliminated the use of glyphosate in the management of a range of weed species in public spaces across the district. 
EDDC is the largest of the Devon district councils, serving a population of over 150,000 residents and increases significantly during the summer months as visitors arrive to enjoy the beaches and countryside. "We see a big variety in the amount and type of weeds across the district" explains Horticultural Technical Officer Paul Fealey. "Perennial weeds, such as dandelion, tend to dominate landscapes in and around paved areas, with annual weeds such as groundsel and chickweed more prevalent in beds and borders in our formal parks and gardens. Despite having small root systems that can be easily uprooted by hand, they are high in quantity and spread very quickly so Glyphosate was traditionally sprayed throughout the growing season as a 'quick-fix' solution across our hard and soft landscape surfaces."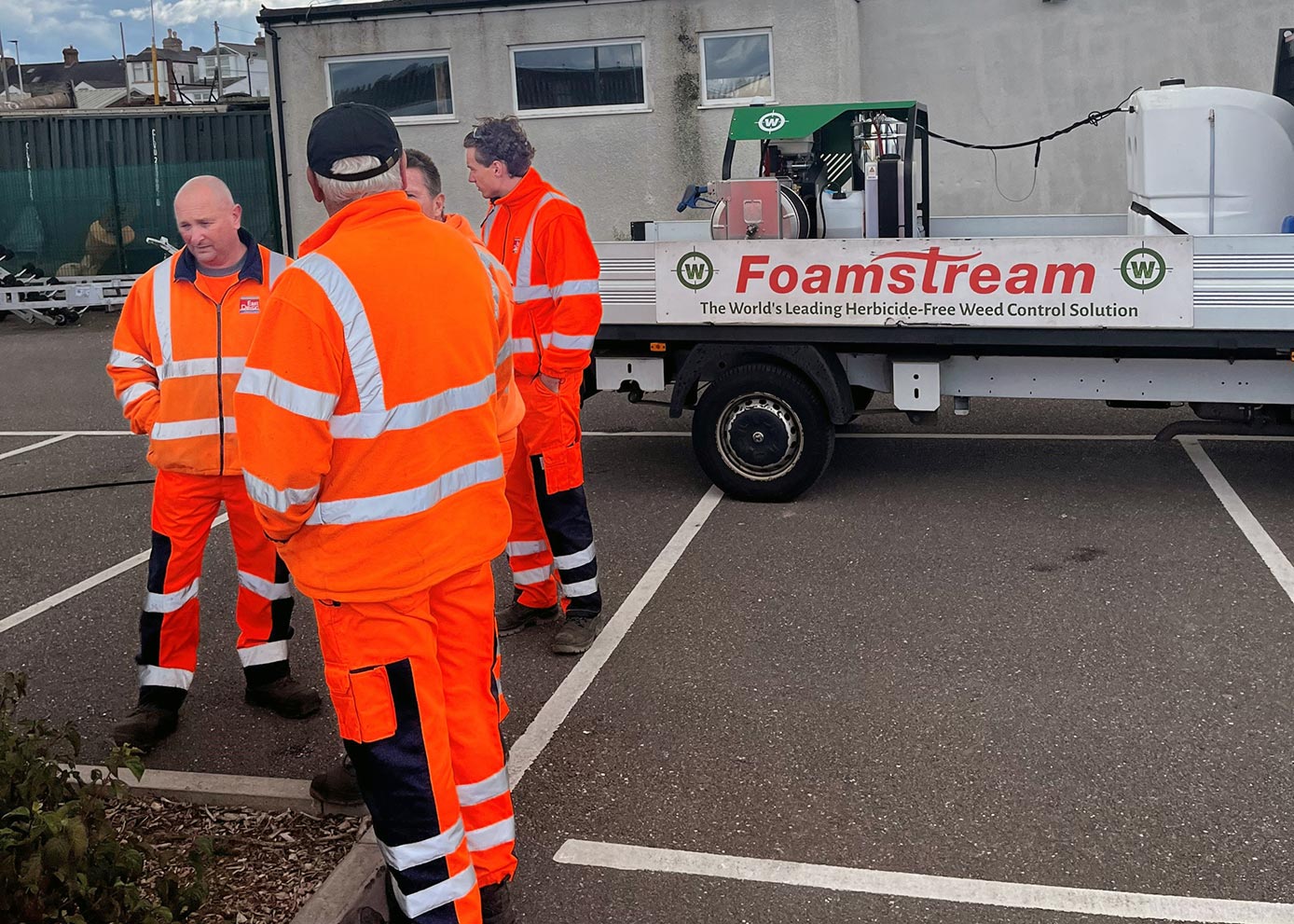 "The teams understood that there was an environmental impact to their spraying and, with a Glyphosate ban imposed in 2022, we needed to explore all options to find something the team would be happy to adopt and that would deliver the same efficacy and efficiency as Glyphosate."
12-months of data was presented as part of a herbicide audit, where Foamstream emerged as a viable solution. Foamstream's patented low-pressure process combines hot water with a biodegradable foam made from natural plant oils and sugars. The foam acts as an insulation blanket, preventing the heat from escaping and keeping the water in the 'kill-zone' of 57 degrees Celsius and above for longer. The heat penetrates the waxy outer leaf structures, travels down the stem and into the roots – killing or severely damaging the plant.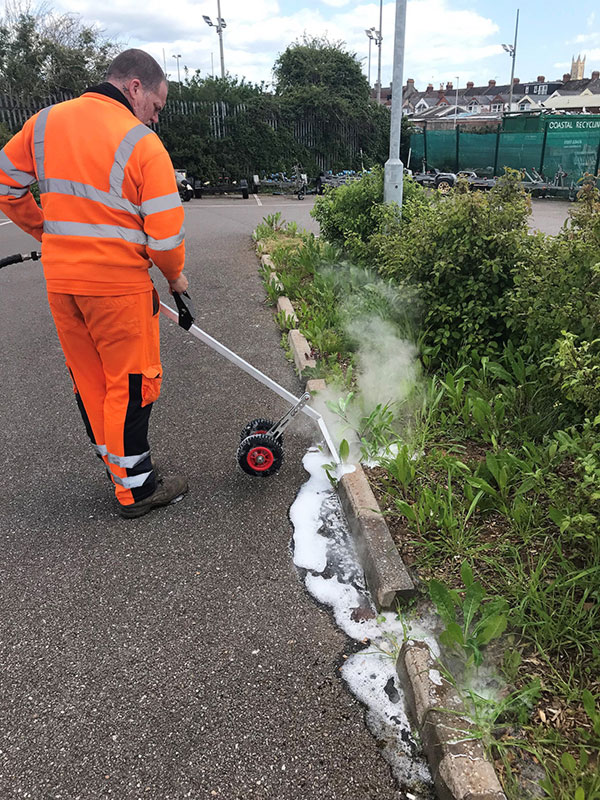 Paul's findings were presented to EDDC StreetScene's Operations Manager, Tom Wood. "We invited as many of the operatives along to the demonstration as we could and monitored the results over the next seven days. We were all blown away!" exclaims Tom. "As our district is split into East and West, we proceeded to purchase two L12 systems in May 2023, both with a 60m retractable hose which means that, with the unit mounted on the back of a flat-bed tipper, we can get the applicator wand exactly where we need it."
"While it's still relatively early days, we have already had fantastic feedback and are witnessing large areas of weeds killed within 24 hours of treatment" notes Tom. "While we tackle the build-up of weeds from last year's Glyphosate ban, the two units are currently being used extensively but foresee that in 2024, intervals between treatments will extend by as much as 50%, with even our most problematic areas only treated at approximately 12-week intervals."
"Foamstream sterilising spores and seed banks was another major benefit compared to some of the other non-herbicidal alternatives, which will help to break the 'losing battle' the teams have traditionally faced with the rapid life cycles of ephemeral weeds."
Paul adds, "We are now well placed to control weeds in a way that is of benefit to our operatives, to the environment and to those across areas in the wider public realm."