Steven Anft takes over as Head Service Engineer
Congratulations to Steven Anft, who has taken over from Adam Benkhennouf as Head Service Engineer.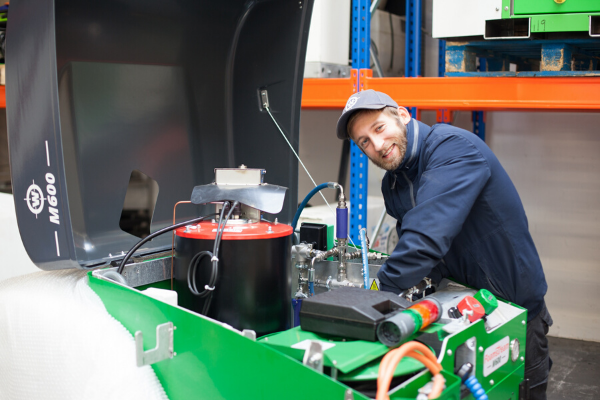 Steven joined Weedingtech in May 2018 as a service engineer in the tech team. His extensive knowledge of our machines has been cultivated by testing new systems developed by R&D, writing technical documentation, commissioning machines and dealing with client's technical issues.
Knowing the machines inside out, he spends a lot of time on the road and is responsible for servicing and upgrading machines for our clients around the world (he stopped counting when he'd serviced his 70th machine, only a few months after he'd started!)
Another core part of his role it to carry out operator training ensuring end clients are fully equipped to gain the most from their machines and the machine multi-functionality.
With support being one of our core pillars, it is critical that our end customers serviced by our channel partners are looked after with the highest level of after-sales support that we would carry out ourselves. As a result, Steven is also responsible for training engineers working for our channel partners to make sure that they are fully equipped and have undergone extensive training. This enables them to service their own clients with the same exacting standards delivered by Weedingtech's customer support team.
With a large number of our distributors based in America, he is often travelling across the pond. Currently having carried out over 50 training session to more than 200 operators and engineers – we're delighted to have someone who intimately understands our customers and their end client's needs, heading up our service engineer department.
In his free time, he loves nothing more than spending time with his wife, taking his dog for long walks on the weekend, avidly following everything to do with block-chain and building small scale models of spaceships and droids.
Steven's favourite thing about working for Weedingtech:
"Being part of a company that is set to conquer the world of herbicide-free weed control and seeing the progress the company makes is exciting. 2020 is going to be a very successful year in terms of adoption of our technology."
Congratulations Steven!
Find out more about Steven and the rest of our team here.